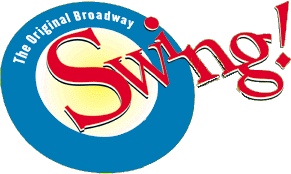 FOR NEWS & ARTICLES ARCHIVES, CLICK HERE

PLEASE NOTE THAT THIS SITE WILL NO LONGER BE UPDATED
OR MAINTAINED ON A REGULAR BASIS.
Any occasional updates will still be noted on the UPDATES page (link above)

THANKS TO ALL OF THE VISITORS TO THIS SITE!

LAST UPDATED: January 10, 2001

JANUARY 2001
Sadly, Swing!, currently running on Broadway at the St. James Theatre, is closing this month. The show's final performance is Sunday, January 14, 2001.
The touring production is underway...if you have not had a chance to see Swing! on Broadway, try to catch it when it comes near you, you'll be glad you did!!
Visit The Swing! Tour Page here
JUNE 2000
7th Annual Friends of New York Theatre Awards Presented June 25, 2000
at Swing 46
Swing! Wins in the Outstanding Musical Revue or Unique Theatrical Event category!


MAY 2000
*Unofficial Broadway Swing! Website Interview with Casey MacGill*

APRIL 2000
THE SWING! FIRST NATIONAL TOUR
Swing! Nominated for Drama Desk and Drama League Awards!!!