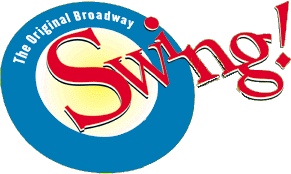 LEGAL
I have created this site as a tribute to the fabulous new Broadway Musical, Swing! and all of the people involved in its creation. I have done so only because I *love* this show and would like to help to generate interest, as well as encourage interaction/discussion with other fans. ABSOLUTELY NO FINANCIAL GAIN IS INTENDED OR REALIZED BY ME WHATSOEVER in creating this site, nor by the use of the articles, official graphics, photos, etc.
This site design and all graphics, except where otherwise credited throughout the site or below, were created by me, and are copyrighted to me. I do an extensive amount of research in compiling this information, so please do not take anything from this site without permission. If you see something you would like, just e-mail me and we can make arrangements. :)

Any articles and photographs on this site are the property of, and copyrighted to, their respective owners where credited. Generally, I have followed these guidelines for listing credits:

1) Articles: Table format, with the date, the article title and source listed on the page.

2) Production photographs: All official production photos are credited on the page where located.

3) Other photographs: Most of the other photographs I used text hyperlinks which will take you to the full page from the original website containing the photo, rather than to an image file only. For any photos which I have used directly on my website, I have either credited source by name/title, and/or have provided the original website URL on the page where located or listed this information below. All headshots were scanned by me from the Playbill. The photographs (screen captures) from ALL television appearances listed on the PHOTOS page were taken by me using my computer and my Snappy 3.0 Video capture device and software (Play Inc.).

4) Clip Art and miscellaneous graphics: Credited below.
5) Miscellaneous: Anything else which I didn't credit on the respective page (for aesthetic or other purposes) can be found below.

If there is anything on this site which is yours, and you do not wish for it to be included on this site, or I have not given proper credit, please e-mail me and I will remove it, or give appropriate credit as soon as possible!
Thank you for your cooperation! I hope you enjoy your visit, and remember:

IT DON'T MEAN A THING IF IT AIN'T GOT THAT SWING!

-Allyson
broadwayswing@hotmail.com

---
CREDITS
(NOT LISTED ELSEWHERE ON THIS SITE)


Lindy Hop Clip Art by Laura McEntyre
Swing dancers clip art on the COMING SOON page. (Originally in .gif format, which I needed to convert to .jpg; I also changed the image colors from black and white to yellow and blue)


http://www.readio.com Image of the St. James Theatre on the INDEX page


To Jonesy, a BIG THANK YOU for providing the following information:
George Gee and His Make-Believe Ballroom Orchestra: Swingin' Live; Steve Armour (arrangement) & Lance Bryant (arrangement and first tenor sax).

Swingin' Christmas with Ron Sunshine & Full Swing; Dan Hovey (guitar).

Straight Up by Ron Sunshine & Full Swing; Dan Hovey (guitar).

Also the cover scans of these three CDs, as well as the picture of Lance Bryant with George Gee from the Swingin' Live CD.