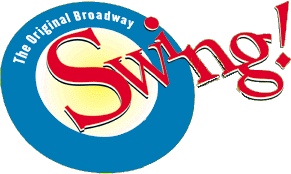 WHAT THEY'RE SAYING ABOUT SWING!

Liz Smith (syndicated)
"A delightfully raucous, funny, frisky and often seductive new musical extravaganza. What an extraordinary stand out cast. Swing! will put a smile on your face and a tap to your toe."


Time Out New York
"An army of talented (even world champion) dancers!"


New York 1
"Swing! has 'ringers' – that is, competitive swing dance champions – riffing with Broadway hoofers. It's thrilling to watch them engage in some friendly competition of their own as they try to top each other!"


WOR Radio
"Beverly Durand does things with her body that I would deem impossible. She's the wild one with the pixie haircut."


Wall Street Journal
"It's irreverent and goofy and it's pretty exhilarating. Throughout, the excellent band, led by the nattily zoot-suited Casey MacGill, is part of the show, enthroned prominently on Thomas Lynch's colorful quasi-ballroom set."


Michael Kuchwara, Associated Press
"Swings right into the stratosphere! A cast of astonishing dancers and superb singers."


Associated Press
"A cast of astonishing dancers. A double number turns into a dance duel between Beverly Durand and Aldrin Gonzalez, doing West Coast swing, and Maria Torres and Carlos Sierra-Lopez, doing Latin swing. Both teams come out on top. There is a dreamy romantic ballet by Scott Fowler and Carol Bentley and a raucous country two-step performed by Laureen Baldovi and Robert Royston, who proves you don't have to be a string bean to be supple and stylish on your feet. "


Clive Barnes, New York Post
"It don't mean a thing if it ain't got that swing - and SWING! has got it, means it,
feels it and shouts it."

"A major breakthrough!"

"It is purely the most exhilarating show in town."

"High-action energy and high-class style."


Jacques leSourd, Gannett Newspapers
"Every single moment seems inspired. Lynne Taylor-Corbett and Jerry Zaks have fashioned a masterpiece!"

"Swing! is an astonishing dance revue: it's breathless, wild and totally winning. Let's just start with an English fellow named Ryan Francois, who with his wife, Jenny Thomas, simply set fire to the dance floor in two numbers! Francois is the height of cool. He seems to be doing these incredibly difficult swing steps in his sleep (with an occasional wink at the audience). He hurls Thomas over and under and all around himself without a trace of effort, and never misses a beat. A star, in other words, is born!"

"Wow! Does It swing! An astonishing dance revue: breathless, wild and totally winning. The show's two hours go by in a flash. It's irresistible. Whether you're a swing devotee or don't know the Lindy Hop from the Charleston, you will love Swing!"


The New York Times
"Modulated acrobatics in distilled emotional vignettes."

"Flashy artistry and virtuosity with dances that speak of human relationships, time and place. "

"Lynne Taylor Corbett has done a fabulous job in fusing show dancers with swing-dance champions. The whole thing jumps and jives with pulsating energy."


Jonathan Schwartz, WNYC Radio
"SWING! is an active collection of short stories that are danced and sung with meticulous attention to satirical detail and romantic human conflict. It reads like a novel, its tales woven intimately together. The songs, most of them familiar, are reverentially but not sentimentally presented. The dancing is athletic and joyful. The show is swift and terrific, and, unlike many other plays and musicals, it's about something, though hardly a word is spoken. America hasn't been so keenly identified on the musical stage for years, and when you leave the theatre, you'll find the complicated pleasures of everyone you have ever loved, hailing a taxi right along with you."


Hollywood Reporter
"A truly swell cast of attractive and talented dancers. Taylor-Corbett's choreography shows off well the stunning athleticism of the dancers. In particular, Beverly Durand, in the fabulous "Throw That Girl Around"/"Show Me What You Got," manages to propel her body around the stage like she was made of rubber, to dazzling effect!"

"One of the most fun offerings on Broadway. If you don't find yourself bouncing in your seat with joyful enthusiasm, you're obviously suffering from a vitamin deficiency."


In Theater Magazine
"Try to resist "Throw That Girl Around"/"Show Me What You Got," in which the tantalizing Beverly Durand and Aldrin Gonzalez compete against the dynamic Carlos Sierra-Lopez and Maria Torres – and slide and gyrate with astounding grace and sexiness!"